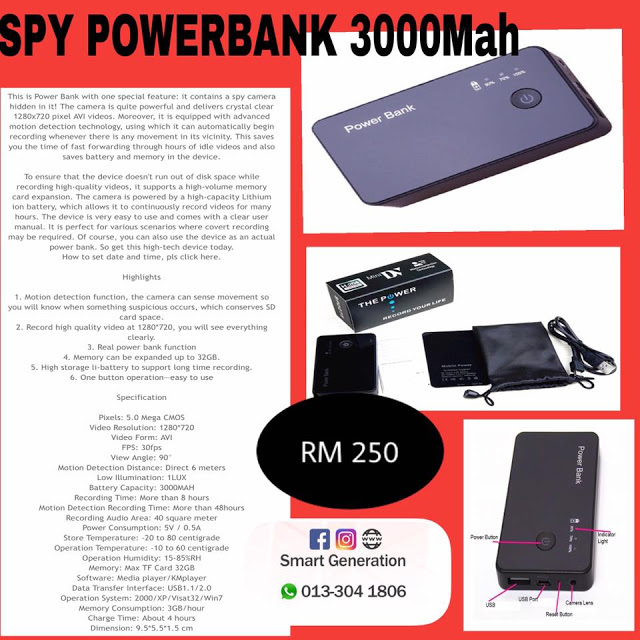 PY POWERBANK :-
Dapatkan sekarang Barangan SPY terkini iaitu SPY Power Bank dengan 3000Mah Bateri...
Sesiapa pun tidak akan menyangka bahawa Power Bank ini sedang merakam...
Anda boleh gunakan SPY Power Bank ini untuk keselamatan dan perlindungan anda sekeluarga dan merakam apa sahaja ketika ketiadaan anda..
Dapatkan sekarang dengan Harga RM 250 termasuk pos..promosi terhad...harga Asal RM 350...
Segera SMS/Whatsap 013-3041806 sebelum kehabisan stock...
Real Portable Power Bank With A Covert Hidden Camera, Multifunction Spy Camcorder With Motion Detector And Huge 3000MAH Battery Capacity.
This is Power Bank with one special feature: it contains a spy camera hidden in it! The camera is quite powerful and delivers crystal clear 1280x720 pixel AVI videos. Moreover, it is equipped with advanced motion detection technology, using which it can automatically begin recording whenever there is any movement in its vicinity. This saves you the time of fast forwarding through hours of idle videos and also saves battery and memory in the device.
To ensure that the device doesn't run out of disk space while recording high-quality videos, it supports a high-volume memory card expansion. The camera is powered by a high-capacity Lithium ion battery, which allows it to continuously record videos for many hours. The device is very easy to use and comes with a clear user manual. It is perfect for various scenarios where covert recording may be required. Of course, you can also use the device as an actual power bank. So get this high-tech device today.
How to set date and time, pls click here.
Highlights
1. Motion detection function, the camera can sense movement so you will know when something suspicious occurs, which conserves SD card space.
2. Record high quality video at 1280*720, you will see everything clearly.
3. Real power bank function
4. Memory can be expanded up to 32GB.
5. High storage li-battery to support long time recording.
6. One button operation—easy to use
Specification
Pixels: 5.0 Mega CMOS
Video Resolution: 1280*720
Video Form: AVI
FPS: 30fps
View Angle: 90°
Motion Detection Distance: Direct 6 meters
Low Illumination: 1LUX
Battery Capacity: 3000MAH
Recording Time: More than 8 hours
Motion Detection Recording Time: More than 48hours
Recording Audio Area: 40 square meter
Power Consumption: 5V / 0.5A
Store Temperature: -20 to 80 centigrade
Operation Temperature: -10 to 60 centigrade
Operation Humidity: 15-85%RH
Memory: Max TF Card 32GB
Software: Media player/KMplayer
Data Transfer Interface: USB1.1/2.0
Operation System: 2000/XP/Visat32/Win7
Memory Consumption: 3GB/hour
Charge Time: About 4 hours
Dimension: 9.5*5.5*1.5 cm
Package Contents
1 x Power Bank Hidden Camera DVR - SP007S
1 x USB cable
1 x User manual