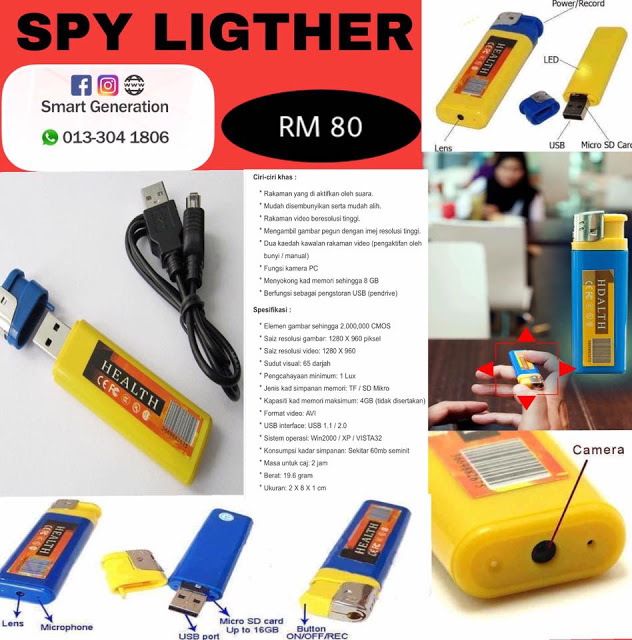 Kamera DVR Pencucuh Api Pengaktifan Suara dengan fungsi webcam.Gajet spy ini begitu kecil untuk dimuatkan ke dalam poket anda serta amat mudah disembunyikan. Ianya nampak bersahaja dan tidak kelihatan janggal hinggakan tiada yang perasan yang ianya adalah sebuah kamera spy ! Lensa rahsia kamera video yang bersaiz lubang jarum tersembunyi merakam setiap detik yang berlaku di sekeliling tanpa ada yang menyedarinya.
Ianya juga memiliki fungsi sebuah webcam yang merakam video serta audio berdefinisi tinggi dan juga merakam gambar pegun berkualiti tinggi.
Ianya boleh di caj dengan mudah boleh ia dhubungkan ke USB komputer anda. Tidak perlu memasang sebarang driver atau perisian bagi menonton video rakaman sekaligus menjadikan ianya begitu mudah digunakan.
Ciri-ciri khas :
Rakaman yang di aktifkan oleh suara.

Mudah disembunyikan serta mudah alih.

Rakaman video beresolusi tinggi.

Mengambil gambar pegun dengan imej resolusi tinggi.

Dua kaedah kawalan rakaman video (pengaktifan oleh bunyi / manual)

Fungsi kamera PC

Menyokong kad memori sehingga 8 GB

Berfungsi sebagai pengstoran USB (pendrive)
Spesifikasi :
Elemen gambar sehingga 2,000,000 CMOS

Saiz resolusi gambar: 1280 X 960 piksel

Saiz resolusi video: 1280 X 960

Sudut visual: 65 darjah

Pengcahayaan minimum: 1 Lux

Jenis kad simpanan memori: TF / SD Mikro

Kapasiti kad memori maksimum: 4GB (tidak disertakan)

Format video: AVI

USB interface: USB 1.1 / 2.0

Sistem operasi: Win2000 / XP / VISTA32

Konsumpsi kadar simpanan: Sekitar 60mb seminit

Masa untuk caj: 2 jam

Berat: 19.6 gram

Ukuran: 2 X 8 X 1 cm
Panduan Cara Mengguna:
1. Mengaktifkan: Tekan suis power dibawah selama 1 saat. Lampu merah menyala, gajet bergetar sekali. Lampu merah kekal menyala sebelum berhenti bergetar.
2. Padamkan: Tekan suis power 1 saat. Bergetar 2 kali dan Lampu merah padam.
3. Mod rakaman video: Tekan 1 saat. Gajet akan bergetar 2 kali serta berkelip 2 kali lalu padam.
4. Video Pause / Henti rakaman: Tekan sekali. Lampu merah berkelip 3 kali dan bergetar singkat 3 kali.
5. Snap foto: Tekan secara singkat sekali. Gajet akan bergetar manakala lampu akan menyala sekali. Kemudian lampu merah akan terus menyala menanti gambar seterusnya.
6. Reset: Cucuk dengan pin pada lubang lampu LED
7. Kuasa bateri berkurangan : Lampu merah sentiasa berkelip-kelip.
Battery: 5V DC/280Mah
Video Format: AVI
Resolution: 1280*960
Photo: 1280*960/2560*1920/4032*3024
Latest & NEW SPY LIGHTER DVR
Mini DV USB Spy Hidden Camera Cam Camcorder
High Resolution of taking photo is 1280x1024
High Resolution of taking video is 720x480
Latest version 6 in 1 function:
Video Record, Camera / Photo,
Sound Activated video, As a pendrive, PC Camera.
Real time recording, never let memorable moments sneak away from life!
*Video Recording with voice & Take a Photo & PC WebCam
Easy one-button operation


Features:

Brand new & High quality.

Sound control video. It automatic start record when the voice more then 60 decibel.

Look just like a normal cigarette lighter but it is a hidden camera with audio and a built-in mini DVR.

Record time up to 2 hours.

No drivers or outside power source needed.

Easy one-button operation。

Classical lighter shaped.

Video pin hole camera with microphone(audio capture) hidden inside.

Resolution of taking video is 720x480.

Resolution of taking photo is 1280x1024.

Card Capacity: Support Micro SD / TF Card Max to 8G (Micro SD Card Not Included).

Built-in Microphone captures all audio clearly.

USB Flash Drive functionality.

Built-in 220mAh rechargeable lithium battery.

Rechargeable by any powered USB port.

Lens: 2.0 Mega CMOS.

Visual Angle: 65 degree.

Storage temperature: -20-80°.

Operating temperature: -10 - 50°.

Operating humidity: 15-85%RH.

Record Format: JPEG, AVI.

USB interface: USB1.1/2.0.

Operating system: 2000/XP/Vista32.

Charging time: Approx 2 hours.





HOW TO USE?:



1. Charge
Please charge the battery using computer's USB Port. Yellow light will On when charging, yellow light will Off when battery full or stop charging.
2. Power on to enter sound-control standby mode
Please confirm TF card has been inserted.
(1) Long Press "ON/OFF/REC" button, yellow light will On for 2 second then Off, it now enter into sound-control standby mode.
(2) When surrounding voice reaches 65 decibels, it will automatically enter video mode to record video for 3 minutes, then save the files and enter sound-control standby mode.
(3) It will goes for the circuit of standby-video-standby until the memory card full.
3. Standby mode
When it at the sound-control standby mode, press "ON/OFF/REC" button once, yellow light will On, if no action in 2 minutes, this device will automatically Off.
4. Take photo
When it at the standby mode, press "ON/OFF/REC" button once, yellow light will Off then On, one photo has been taken & saved. Yellow light will On, it now at the standby mode.
5. Take video
When it at the standby mode, long press "ON/OFF/REC" button for 2 seconds, yellow light will flashes twice then Off, it taking video. Long press "ON/OFF/REC" button for 2 second again, yellow light will On, video has been taken & saved. It now enter standby mode.
4. Power off
Long press "ON/OFF/REC" button for 4 seconds, yellow light will flashes twice then Off.
Package Included:

1 x Spy Lighter DVR ( Blue Color)

1 x USB Cable

1 x User Manual

1 x Retail Box