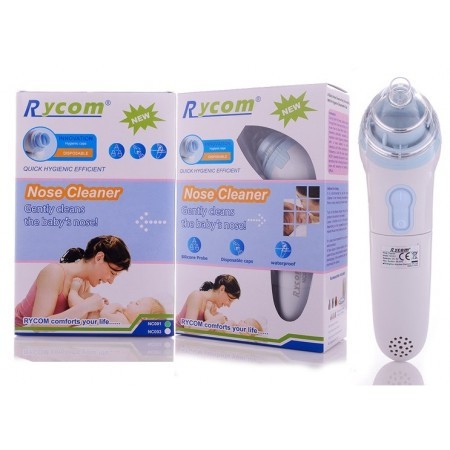 RYCOM NC001 Baby Electric Nasal Aspirator Automatic Portable Nose Cleaner With Music
Nose cleaner is a new kind of fashion for baby care products, which possesses lots of advantage, like softness, high efficiency and easy operation. Since the babies no more than one year old can only breathe by nose, it is essential to clean their nasal secretion and mucus regularly in case of illness.
When a baby has a cold, the nose cleaner enables the suction of mucus secretions that are blocking the nose and making breathing difficult. It is battery operated and just needs to be held under the baby's nose for a few seconds so that the suction effect will clear all the mucus into the cup of the cleaner, leaving the nose clear. Baby can then breathe easier again. The plastic cup can be thrown away or cleaned hygienically. The nose cleaner is waterproof and can be used with one hand while holding baby with the other arm. This is something that no family of babies/young children should be without, as it relieves stuffy noses in an instant, thus resulting in better sleep at night.
Features:
100% Brand new and high quality

Quick and efficient

100% Hygienic and safe for baby

Gently and safely remove excess mucus by suction from your baby's nose

Waterproof

Safe, easy operation and reusable

Adjustable suction strength

Front spherical design not easy to damage baby's nasal mucosa

No more hand pumping and mouth sucking

Helps to clear baby's nose for instant relief from congestion

Remove nasal congestion caused by colds, flus and allergies within 30 seconds

Equipped with music function and provide three kinds of music for you to choose from

With protective reusable filter

Safety ridge to prevent injuring your baby's delicate nostrils and causing possible nosebleeds

Maximum comfort and easy suction control

Won't irritate baby's nose

Easy to assemble and disassemble

Featuring a powerful motor and quality pump components

The maximum suction is 50kPa capacity

Portable and durable

Battery operated for convenient use both home and away

Light weight and conveniently shaped for best application

Washable after use to leave device clean and reduce chance of bacteria growth

Hygienic disposable caps better guarantee the safety for you

Three different sizes of silicone probe makes your control easier

Perfect for use when your baby is lying in bed, bathing, sitting in your lap, or while travelling in the car

Less trauma for your infant and less stress for the whole family

Professional medical health care home to your family

Imbedded with melody smooths feeling

Collection caps can be disinfected by boiling water

Get yours today so you can protect your baby's health
Descriptions:
Model Number: NC001

Material: ABS, PC, Silicone

Colour: White

Item Type: Medical Device

Suction Style: Steam Pump Type

Suction: Low, Medium, Strong

Melody: Pleasing Tone, 3 options

Aspiration: 30% Soft, 70% Medium, 100% Strong

Power Supply: 2 AA Batteries (1.5V)

Frequency: <50Hz

Applicable for: 0 year old babies and above

Weight: Approximate 0.2kg

Package Dimension: 23.5cm x 15cm x 7cm

Care instruction: Clean with detergent, can be sterilized
Precautions:
Not applicable for nasal mucosal injury, redness nose etc.

Placed in a cool dry face after use

Please keep it away from children to avoid incident

This product cannot be used as a toy
Package Includes:
3 x Silicone Probes

2 x Extra Silicone Joints

25 x Hygienic Disposal Cap

1 x Nose Cleaner Device

2 x 1.5V AA Batteries

1 x User Manual