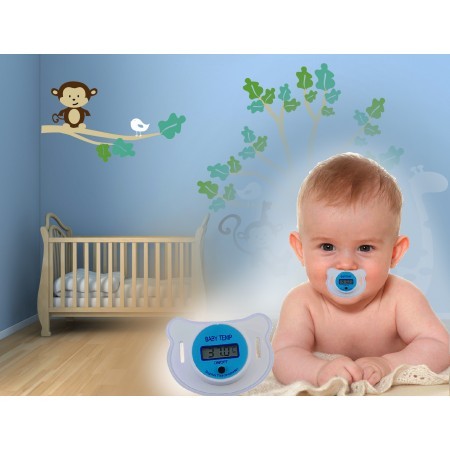 Baby Nipple Thermometer Medical Silicone Pacifier LCD Digital Children's Thermometer Health Safety Care Thermometer For Children
Features:
100% Brand new and high quality

This thermometer shaped like a common pacifier, especially designed for babies.

LCD display, easy and clear to read.

Last temperature memory

Automatic shut-off

Shaped like a common pacifier

Protective storage cover

Last temperature memory

Unique design

Should be placed into your baby's mouth until the reading is complete

Quickly and easily measure in 3 minutes, beeps when temperature measurement complete.

Simply press On / Off button and easy to reset the setting.

No mercury is used, has no harm to the environment as well as to baby.

Auto shut-off function after usage with last temperature memory.

Convenient, accurate, and hygienic for usage.

An accurate temperature is able to be taken through micro-electrons.

All parts of the assembled unit have been designed with your child's health and well-being in mind.

There are no sharp edges - only smooth curves to protect a baby's tender skin.

Snap-on protective caps to keep teats hygienic

Easy to clean

Simple press

Soft and Safe

Protective cover included for clean storage or travel

Allows parents to get a night time temperature reading without disturbing baby

Easy to use

Odorless and taste-free so it's more likely to be accepted by your baby

The silicone is smooth, transparent, easy to clean and it doesn't get sticky.

The nipple is strong, long-lasting and won't become mis-shapen or discolored over time.
Description:
A perfect item for babies or children aged under 4 or below.

Color: Blue

Type: Pacifier Pattern

Applications: Mouth

Materials: Silicone

Themometer Type: Digital

Measure both Fahrenheit and Celsius

Power Supply: DC 1.5v (LR/SR-41)

Temperature Range: 32 - 42 degree centigrade / 96 - 107.6 degree fahrenheit

Accuracy: ±0.1 degree centigrade / ±0.2 degree fahrenheit

Memory Function: Last temperature

Alarm: About 5 seconds sound after operation

Automatic self-test

Water Resistant of PT-1025 and BT-708

Automatic Switch Off: After approx 10 minutes
Using the thermometer:
Press the on/off button, beep sound will be heard and display "188.8" for about 2 seconds.

After that, the thermometer will display the last temperature memory record for about 2 seconds, and then display L°C or L°F, signal °C or °F flashing, that means the thermometer is waiting for use.

During measurement, the current temperature is displayed continuously for 100 seconds or so.

If the signaling tone sounds (beep 5 times) and the "°C" is no longer flashing, this means the thermometer display the user's body temperature.

This thermometer can automatically shut off within 10 minutes after measurement. It is recommended to turn off the power manually right after measurement to save energy.
Caution:
It should be placed into babies' mouth until the reading is complete.

The thermometer is suitable exclusively for measurement of the body temperature.

The minimum measurement time until the signaling tone ( beep ) must be maintained without exception.

The small parts included can not be swallowed by children.

Protect the thermometer from hitting and striking.

Please disinfect the probe with alcohol or using probe cover. Avoid ambient temperature above 60 degree centigrade.

Never boil the thermometer.

Do not put it in contract with chemical reagent or diluents.
Package Includes:
1 x Digital LCD Soft Nipple Baby Thermometer

1 x English User Manual